Key Points for Lunch Bag
June 08,2022
We mainly focus on the following three aspects when purchasing lunch bags: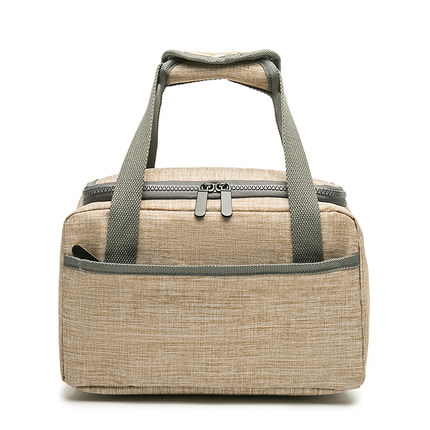 Inner layer
In winter, if you want to bring food into your lunch bag, you should naturally choose one that has the function of heat preservation. At present, most of the square box belts sold on the market are lined with aluminum foil, which can slow down the heat emission of the lunch box, but it can not play a role in heat preservation.
According to my own experience, most companies will prepare microwave ovens, so the insulation effect of the inner layer is not very meaningful to us.
If you choose a general lunch bag, you can ignore the thermal insulation, and it is an ordinary bag directly.
Outer layer
At present, Oxford cloth is widely used as the outer material of lunch bags in the market. The advantages of lunch bags made of Oxford cloth are:
It is waterproof and durable. The Oxford cloth itself is light and suitable for carrying. Moreover, this material is environmentally friendly and is very suitable for making bags.
Capacity
The capacity of the lunch bag should be taken into account when purchasing the lunch bag. If you don't know how to choose, you can choose a lunch bag about 20 cm long, 15 cm wide, and 16 cm high. You can put at least two lunch boxes, plus tableware or a small part of fruits and drinks.
We are a Lunch Bag exporter supplier wholesaler, our products satisfy our customers. And we want to be your long-term partner, any interests, welcome to contact us.